Gunsmithing, Minnesota Carry Concealed Weapon Courses, Firearm Sales, Firearm Transfers Military Surplus Sales, Lawn Care, Snow Removal.
bahrindustries.com | Friday 20 January 2017 |
Bahr Industries LLC "Inexpensive, Quality Service since 1996"®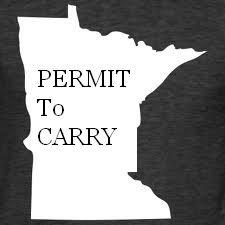 Bahr Industries LLC, Firearm Classes:
We are authorized to instruct the following: Minnesota , Wisconsin (*resident only), Florida, Virginia, Maine, New Hampshire, Arizona
When you take our Minnesota Permit to carry class, Our certificate program includes certificates for your choice of MN, FL, WI* VA, AZ, ME, NH
We have determined your best bet for maximum coverage at the lowest cost is Minnesota + Florida
Go to the Carry Permit page --> HERE (Fee Includes Range, & Gun)
Want to do your Bahr Industries LLC Permit to carry course online? ---> (online Classes here)
No Hidden Fees for RANGE, Pistol Rental Etc. We Provide the Pistol, you Provide $50 and a box of .22lr Ammo... It's that simple!
Expand your Permit To carry reciprocity course: HERE 2.5 - 3 hour class. Includes a in Class video and range portion $50 gets you your choice of any/all of the following state permits. FL, VA, AZ, ME, NH. - Remember these are included permits with your Bahr Industries LLC, Minnesota Permit to carry course.
Firearm Transfers
Go to my Transfers page:
I will receive transfers from FFL Dealers, for you to pick up ($25)
I will Ship Firearms to another party on your behalf ($25 over shipping cost)
CLICK TRANSFERS ABOVE TO SEE A LIST OF SOURCES OF GUNS.
* I accept transfers from dealers you find. ($25)
Gunsmith Services & Firearm Repair
Bahr Industries offers Firearm Repair, [HERE]
• Cleaning Services
• Parts Replacing & Diagnosis
• AR-15 platform building.
• And much more.
Coming in 2018 •Re-Barreling •Bluing/Parkerizing •Stock Work •
Winter Services
Snow/ ICE and Roof Rake Page ---> HERE
Summer Services
Lawn Care (lawn raking/ weed whipping etc.) Page ----> HERE
FIREWOOD & Chain Saw Work
Firewood and Chain Saw work ----> HERE
Have brush/hedges you would like removed? HERE
Pressure Washing Services
Pressure washing Services ----> Here
Emergency Generator Services
Generator Rental services ----> HERE
Military Surplus Sales
Military Surplus Sales HERE (Coming Back Again)
Specials
Specials --> HERE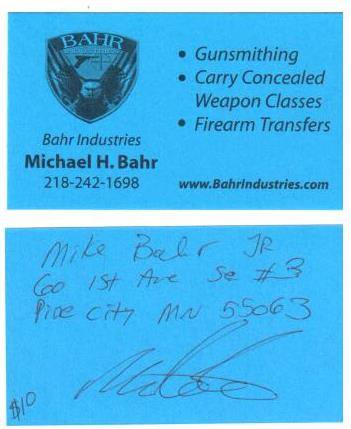 Were you given one of these cards? HERE
Moving
Need help Moving? HERE
Trash & Recycling Service
We are NOT a trash company. If you have alot of trash the trash man won't take, giv us a call. We Can Help HERE
Have Scrap Metal that needs to go? HERE
Have Appliances you need hauled off? HERE
Have brush you need hauled off to the dump? HERE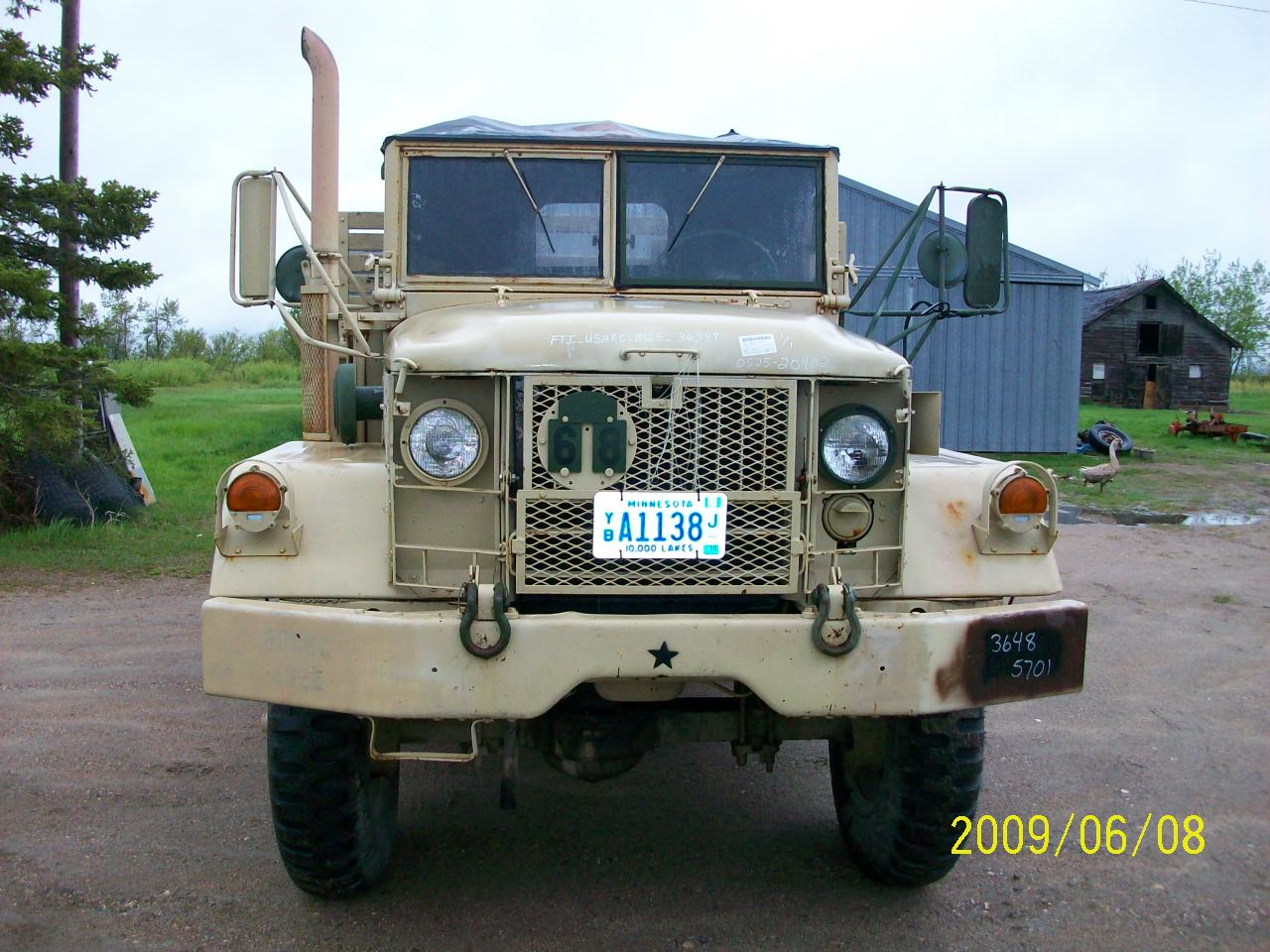 My M35A2 "Duce and A Half" Truck.
President's Corner HERE
Employee Directory/Employment
Follow us on Twitter HERE
Follow us on YouTube HERE
Follow us on FaceBook Here
Check out our Live FACEBOOK Feed HERE
Call or TEXT: (Cell) 218-242-1698 or (work) 320-438-5881
Email: Here
THANK YOU.
® Bahr Industries LLC