Please Print this page to receive the discount
ONLY ONE DISCOUNT MAY BE APPLIED AT ANY TIME.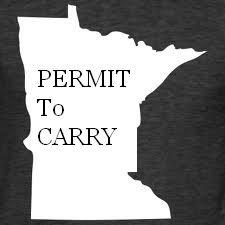 My Everyday Normal Permit to Carry Rate $100/ Ea.
Receive $5 off per person you bring to this Permit to Carry class. Earn up to 50% off.
Veterans with documentation of Service, will receive $10 off their class.
Firearm Sales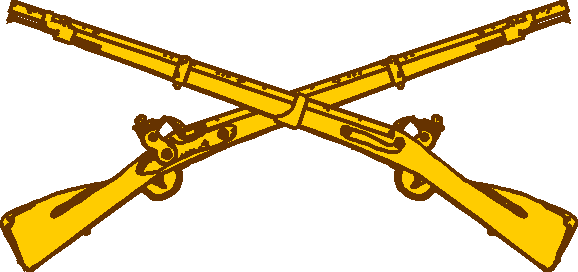 Firearm Sales $20 over cost*
* This applies to firearms which you order from online, for example buds gun shop, or elsewhere. here
* Firearms which we SPECIAL order in for you, will need to have 50% down, and 50% on receipt, plus the transfer fee of $25.
If you choose to return the firearm, you agree to pay all return shipping fees and Restocking fees. We still get our initial transfer Fee, and return Transfer Fee. [$50 total]
$20 transfers - Mention this Add/ Print to receive the deal...
Places that Qualify: www.bahrindustries.com/transfers.html
Veterans: $20 Firearm Transfers.
CARD
This Page if for Customers of Bahr Industries LLC. This is for a card issued, in International Falls, after 1-1-2017.
Do you have a card like this?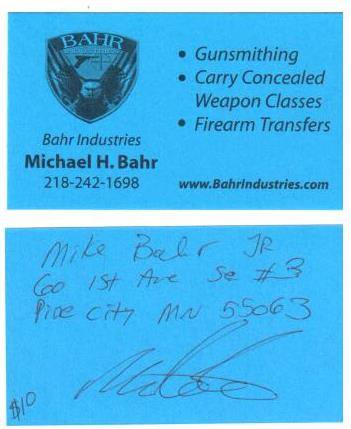 Here are some very important rules regarding this card.
• This card is Non-Transferable
• This card must be given to another student taking the Bahr Industries LLC Permit to carry course during the year of 2017.
• This Card cannot be given to Bahr Industries LLC, in conjunction to any other discounts.
• When a customer for P2C course shows up and gives us this card, we will mail the person who's name and address is on this card a check for the amount shown on the card.
• No alterations to this card will be accepted and will VOID the card.
• This card is NOT A CUPON and has NO CASH VALUE. It is however an incentive program to get you to bring your friends in for a class.
Veterans:
Veterans: $20 Firearm Transfers (Normally $30 over cost)
Veterans: Always get the lowest price on permit to carry class. (even when the class classmates are charged higher)
Veterans: Let me know you are a veteran when I estimate your Lawn Care Job
Veterans: Firewood: Get 10% off Firewood
Veterans: Get 10% off Snow Removal Estimates
Veterans: Get 10% Lawn Care
Veterans: Get 10% off Roof Rake
Veterans: Get Free Salting Services, when you do the basic Snow Removal package.
Veterans: Reduced charge for additional Ice Removal.
Veterans: 10% off firearm Cleaning.
Veterans: A One-time Free estimate for Lawn or Snow work.
Thank You,
Bahr Industries LLC. & Mike's Odd Jobs LLC
1306 Main Ave.
International Falls, MN 56649
Phone: 218-242-1698
Text: 218-242-1698
Email: mbahr29@yahoo.com
® Bahr Industries LLC